lumsoc
LUMSOC Vision for the 2020/21 academic year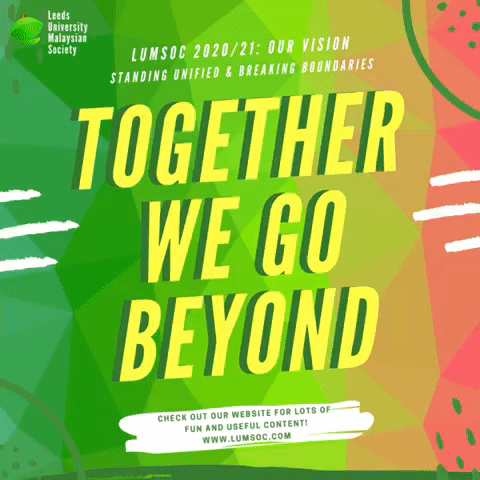 At LUMSOC, we believe it's important that you know what our goals are as a society. This year, our slogan is 'together, we go beyond'. We want to stand unified as a society and break boundaries together, by positively pushing ourselves to really make the most out of our university experience. We want to shape your time at university and make it as enjoyable as it can be, and we want you to continuously seek for positive growth, whether it be personal and/or study/career-related.
We have targeted our focus on 3 main goals
1. COMMUNITY
We want to be a community that provides a source of comfort and belonging to our members during their time at university. We want to promote the building of meaningful friendships and connections that will last a lifetime!
2. INCLUSIVITY
We want everybody to feel welcome here at LUMSOC. Everyone deserves to feel a sense of community and belonging no matter what race, gender, sexuality, language, religion or status.
3. CULTURE
Being a Malaysian society, it is also our priority to spread and promote our beautiful Malaysian culture to both Malaysians and non-Malaysians alike. This year, we want to encourage even more international engagement in our events and collaborate with lots of other societies!
We can't wait to have you all back this year. A gentle reminder that our virtual stall for
will be on Friday the 25th at 10:30am (BST). See you there, and as always, stay safe!